Journal Entry:
Tue May 8, 2012, 6:03 PM
It was awesome! 8D
We spent about two hours there with one of their story artists, Adrian Molina. *u* Although the first 30 minutes we just all sat and talked and ate delicious burritos underneath a gorgeous painting from Toy Story 3.
Then he looked at my portfolio, which he liked quite a bit. He said I was twice as good as he was at my age, but I ought to loosen up my figures. Then he looked at my sketchbook, which he was super impressed with. He said I should just make my portfolio look more like my sketchbook, and I'd be a shoe-in at CalARTs. xD So that was super cool! He's super nice and says to email him with his portfolios or any art or questions and he'll give me suggestions. c:
After lunch he showed us a little bit of the studio (although we weren't allowed anywhere with actual work going on, which was too bad). But I got to see TONS of concept work for Brave, which looks pretty cool! I can't really disclose any info about it obviously, but it definitely looks a little better after seeing the beautiful art for it. Aaaaaand I saw a tiny bit through a doorway of Monster's University! The color design for it is looking pretty cool. Adrian also said there's some new films in the development stage that he's really excited about, but he couldn't tell us more.
Then he gave me a little book he illustrated and drew this in it: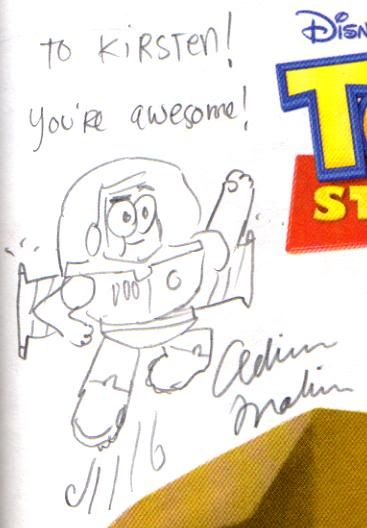 So overall it was awesome! <333 I'm definitely psyched to have someone in the industry helping me out. 8D Yay! ….I'm super exhausted now, but really inspired to draw hehe. x); Might just have to pass out. Anyway, it was super fun, and I think I have a little more direction now so hopefully after school is less stressful I'll have time to work. Yeeee!
Reading: ARE
Watching: A
Playing: PIRATE